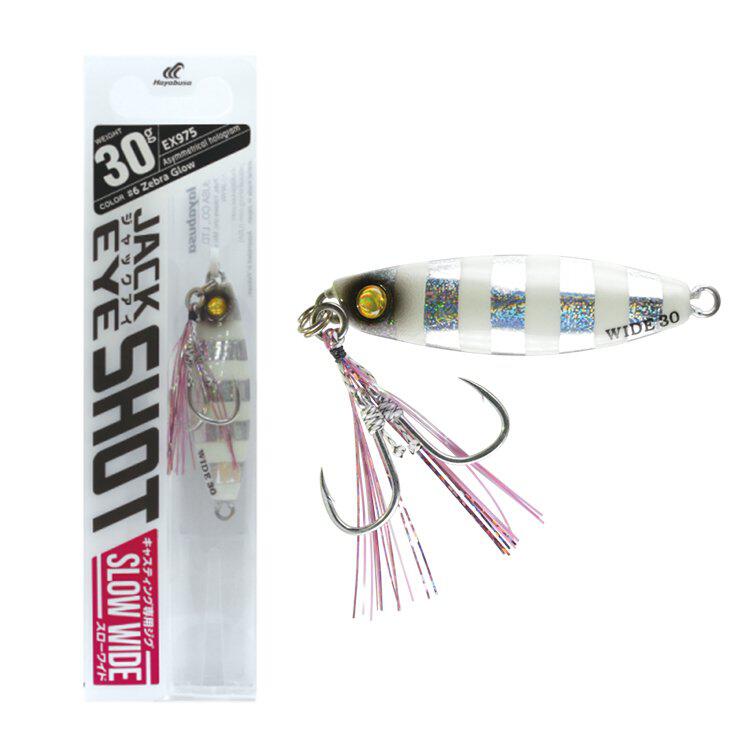 The Hayabusa Jack Eye jigs by Hayabusa have become legendary for their castability and user friendly profile, that indeed delivers fish all over the globe. Now, the Japanese company proposes new models that reinforce all technical jig ops into a Slow based Slow Wide version
First of all the casts that these jigs can make are beyond expectation ever for metallic lures. Their colors and coating have been reinforced, so as to withstand strikes, hits on bottom rocks and all the jerks and twitches or the tear and wear from our rod's commands. Their hooks are tin coated for extra salt water corrosion resistance. They are rigged with a high quality Assist Line, which also has a "Sabiki" ending for extra visibility.
Their metallic body is asymmetric and different in iridescence patterns. Each side of the Shot Slow jigs is different from the other, one is flat and the other more conical, the one bears glitter details and the other vertical shimmering tapes. This asymmetry gives an absolutely "crazy" underwater light and movement effect that spreads on a wide aquatic area. The jig is alive even while being retrieved slowly, or even when falling. The classic big, Jack Eye is still there while the color options are more than ever.
In particular the Hayabusa Jack Eye Shot Slow Wide, is a center weighted jig, with a double Assist Hook. It is ideal for even slower presentations, even under rough current and wave conditions.
With a steady, slow retrieve, the Hayabusa Shot Slow Wide wobbles gently. Even on heavier currents and turmoiled water, it falls wonderfully, while pausing and it can thus be used during days that fishes are less active. Cast it, let it sink and slowly retrieve some meters, or gently perform some jerks before opening the bail arm to let it sink freely again.
Its double Assist Line and the absence of a treble hook makes it perfect for slow game and for much lesser snagging. The same jig can be used for vertical slow game from the boat and it is ideal for days that fishes are not active, or for these days that they feed near the bottom. Big white Sea Breams, Black Seabreams, Dentex and Grouper kinds will respond eagerly